Dave McKean
Kitchen Sink Press (reprinted by Dark Horse Books)

An amazing visual experience. What more might one possibly want from a comix book? In his five hundred page masterpiece
Cages
Dave McKean succeeds in subtly, unforgettably enchanting the retina of his readers.
Cages
offers the pinnacle of what comix – and visual art in general – have to offer. It opens a new look on reality, a new way of seeing. Enough superlatives. What exactly does McKean offer to deserve them?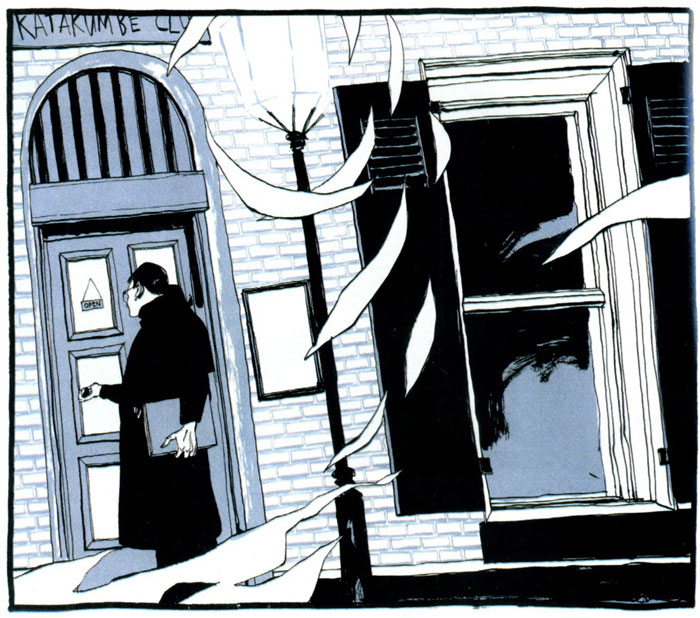 Surprisingly little, in fact: a rented house, a writer, a cat, a recipe for ratatouille. Everyday affairs, with which the young painter Leo Sabarski is confronted, after he has taken residence in a new apartment. Slowly yet surely Sabarski discovers his new surroundings, slowly yet surely the readers discover with him the magic of the everyday. Stunningly the graphic virtuoso McKean manages to balance between legibility and abstraction, description and imagination.
In many comix the panels solely serve a narrative function. Legibility and straight denotation reign supreme. It is an aesthetic view proposed by, for instance, Will Eisner in his classic books on comix as a 'sequential art', or stated by Art Spiegelman when he likens comix panels to diagrams. According to this view of the comix medium, the panels act as a sort of stamps. In one quick glance, the readers know that the rabbi in A Contract with God is angry, because he raises his arms up to the skies. Pending shoulders, a hanging head: the character is sad. A spiral above the head: confusion. According to this view of comix, there is a one-to-one relationship between the signs on paper and the depicted emotions. What you see is what you get. Not so in Cages. McKean alternates instantly legible, unambiguous panels with panels fully open to interpretation. Thus, in Cages, an ordinary conversation in a jazz club, with easily identifiable characters and dialogues, quite naturally can evolve into in a fantasy play of more abstract images. Or, upon leaving the club, a tipsy Sabarski can see undefinable white areas floating across the nocturnal sky. The attraction of this approach of comix is that McKean's images are so open, that one can read them time and time again. Instead of the "empty" diagram panels of Eisner c.s., which reveal their secret straight away, some images from Cages can haunt the reader for years. Like the cat on the opening pages of Cages, they creep through one's memory, waiting for the right moment to unexpectedly jump to the fore.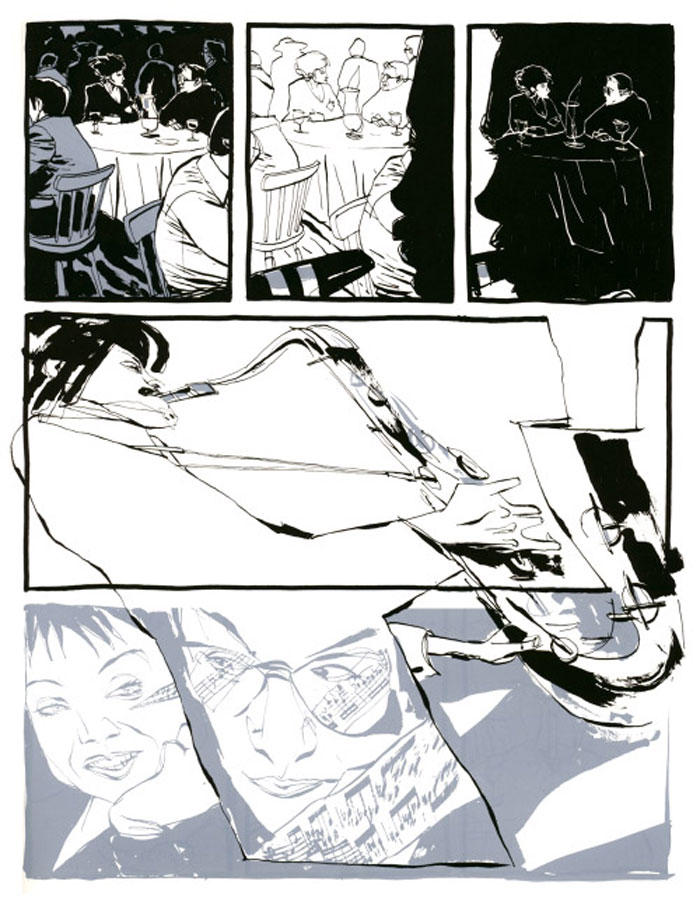 This trust in the expressive qualities of images is central to the attraction of Cages – and to the magic of visual narration in the best sense of the word. The panels express emotions where mere words scarcely say anything anymore. What all too often leads to empty posing with self-contained graphic art, can work miracles in the coherent panel series of comix. In this respect, the ending of Cages says it all. McKean concludes his gem of a book with the image of a monochrome painting, on which Sabarski has commented earlier: "I think there's one of these black canvases in every museum in the world. They must come with the building. 'Here's the lease, here's the key, and here's the large matt-black painting with the free, incomprehensible title.'" Seen by itself, in a museum on the wall, such a black image all too easily amounts to vacuous artiness. As the conclusion of Cages, on the other hand, its meaning is irrevocable: a monumentally black full stop which carries all previous images with it. And then even a black monochrome image can be devastatingly beautiful.
Published in the late Dutch comix magazine ZozoLala ('Taking comix very, very seriously since 1982')
Like this text?
Then you'd might also want to read: